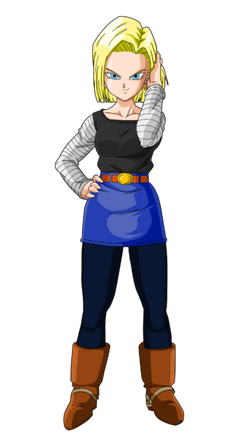 Android 18 is one of the primary protagonists of the Dragon Ball series. She previously fought against
Starfire
in the 13th episode of Fatal Fiction:
Starfire VS Android 18
.
Fanon ideas so far
Edit
Possible Opponents
Edit
Information
Edit
Background
Edit
Android 18 (Real Name:Lazuli)
Species: Human (Currently a cyborg/artificial human)
Gender: Female
Age: 40's (End of series)
Height: 5'6| 167 cm
Weight: At least 130 lbs| 59 kg
Love intrest: Krilln
Former enemy of the Z-Fighters, currently an ally
Not truly an android, it's just a mistranslation that just stuck
Engineered by Dr. Gero to be the perfect killing Machine
May or May not not be Blue Mary's long lost twin
Abilities and Arsenal
Edit
Posseses a unique type of ki that cannot be sensed even by other ki users, and has a nigh-unlimited supply of it
Android Barrier: Omnidirectional energy burst
Destructo Disc: Ki projectile that slices things apart
Energy Attack/Energy Wave: Generic ki blasts
Energy Mine: Shoots concentrated yellow ki spheres: Exac
Flight: Exactly what it says on the tin
Finger beams: See Flight
Also Focuses on team attacks with her brother: Android #17 including but not limited to
Accel Dance: Dual Rush combo that ends with a Photon Strike, used to kill Future Gohan in the HoT Timeline
Feats and Victories
Edit
Casually killed Future Piccolo and Tienshinhan with one hit
Contributed to the blast that destroyed the 'mighty' Krilllin
Broke Super Saiyan Vegeta's arm and knocked him out
Brutally killed Future Gohan after vaporizing his arm
Curbstomped Super Saiyan Future Trunks multiple times
Easily beat and humiliated Goten & Trunks (Mighty Mask)
Gave Hercule Satan a beatdown before he bribed her

And Hercule defeated Cell in no sweat

Totally helped Goku defeat Super 17
Is even stronger in the present timeline than in the future timeline
Was considered one of Dr. Gero's greatest creations
Weaknesses and Flaws
Edit
Future Timeline 18 is much weaker than main timeline 18
Had a bomb inside her that threatened her life (But has since been removed)
Was originally one of the strongest characters in Dragon Ball but has lagged behind
Neglected to train between the Cell saga and Buu Saga
Has never had a fight where she battled somebody on equal ground, all of her battles have been curbstomps one way or another
Her power cannot grow as quickly as a Saiyan's can
Not particularly used to solo combat, prefers a team
Settled down with Krillin
Ad blocker interference detected!
Wikia is a free-to-use site that makes money from advertising. We have a modified experience for viewers using ad blockers

Wikia is not accessible if you've made further modifications. Remove the custom ad blocker rule(s) and the page will load as expected.