Asura is the main protagonist of Capcom's Asura's Wrath.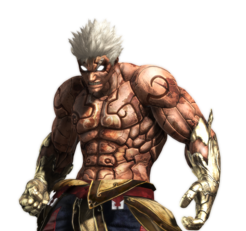 Fanon Wiki ideas so far
Edit
Possible Opponents
Edit
Fatal Fiction Info
Edit
Background
Edit
Full title: Asura the Destructor
Age: 12,000+ years
Race: Demigod
Mantra Affinity: Wrath
Has anger issues that would make the Hulk look tame
Is actually of good intention, despite his anger
Battle Abilities
Edit
Rapid Fire
Edit
Barrage of energy attacks
May involve Mantra
Lock-On Fire
Edit
Barrage of energy attacks
Homes in on and follows the target
May involve Mantra
Unique attack depending on the opponent
Unlimited Mode
Edit
Increase to strength, speed and damage resistance
No overheating from Heavy and Special attacks
Temporary invincibility
Duration based on time limit
Transformations
Edit
Most commonly seen form
Mantra activation metalizing Asura's arms
Increases arm strength
Asura is rarely seen without it
Six-Armed Vajra
Edit
Used from Mithra's divine power
Adds four metallic arms to Asura's body
Can be activated when Asura is sufficiently angered
Used to defeat Wyzen in his Gongen form, Augus, Deus (with Yasha's help) and the Vlitra (single-handedly)
Achieved highest degree of power (at the time)
Achieved after being bathed in Mantra released from the Brahmastra by Mithra
Focuses Asura's rage
Increases size and armor of arms
Possesses the strength of a thousand arms
Mantra Reactor
Edit
Mantra Reactor provided by Yasha from the Karma Fortress
Allows Asura to channel as much power as he needs into it
Disables his Berserker and Wrath forms (as his anger cannot destroy his body)
Increases powers immensely
Contains all Mantra Affinities
Asura the Destructor
Edit
Gained after soaking up immense levels of Mantra
Planet-sized (larger than Gaea/Gaia)
Six-armed
Immense in power
Capable of destroying planets and stars
Bested the Seven Deities
Punched a planet at least 100 times bigger than him to the point where it broke apart in Destructor form
Resisted and overcame Gongen Wyzen, who is larger than Gaea/Gaia
Destroyed a fleet commanded by the Deity Kalrow single-handedly
Defeated Augus despite being impaled on Wailing Dark and sent through Gaea (and having lost his arms in the process)
Forced himself to climb the towers of Naraka and come back from the dead, twice, through sheer determination
Overcame and defeated Chakravartin, the God of Creation, after he had offered Asura the chance to take his place
Able to throw multiple punches in one second
EXTREME anger issues
Lost Bersersker and Wrath Forms with the introduction of the Mantra Reactor
Hates seeing Mithra cry
Certain battles can wear his arms out to the point of losing them temporarily
Lost to Yasha after defeating Wyzen
To come back from the dead, he would have had to die in the first place
Ad blocker interference detected!
Wikia is a free-to-use site that makes money from advertising. We have a modified experience for viewers using ad blockers

Wikia is not accessible if you've made further modifications. Remove the custom ad blocker rule(s) and the page will load as expected.