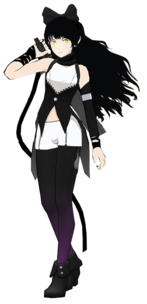 Blake Belladonna is a character from the web show RWBY.
Fanon Wiki Ideas So Far
Edit
Possible Opponents
Edit
Akame (Akame ga Kill)
Green Ranger (Mighty Morphin' Power Rangers)
Cat Noir (Miraculous Ladybug)
Stocking Anarchy (Panty & Stocking w/ Gargabelt)
Fatal Fiction Info
Edit
Ad blocker interference detected!
Wikia is a free-to-use site that makes money from advertising. We have a modified experience for viewers using ad blockers

Wikia is not accessible if you've made further modifications. Remove the custom ad blocker rule(s) and the page will load as expected.