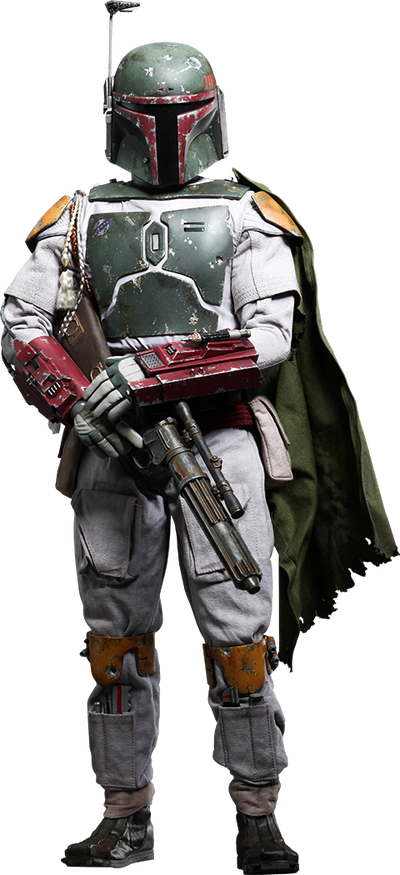 Boba Fett is a character from the Star Wars series.
Fanon Wiki Ideas So Far
Edit
Possible Opponents
Edit
Jonah Hex (DC Comics)
Doomguy (DOOM)
Wolf O'Donnel (StarFox)
Information
Edit
Background
Edit
Age: 35 (Canon)/76 (Legends)
Height: 6'0" / 1.83 m
Weight: 172 lbs / 78.2 kg
Rank: Mandalore
Starship: Slave I
Homeworld: Kamino
Clone of Jango Fett
Widower to Sintas Vel
Father to Ailyn Vel
Mandalorian Body Armor
Edit
Made of Mandalorian Iron
Micro energy field
Penetrating radar
Resists fire, poison, acid, & cold
360 degrees field of vision
Infrared sensor
Environmental filter
Can track 30+ targets at once
Retractable drinking straw
Weaponry
Edit
EE-3 carbine rifle
Sacros K-11 blaster pistol
Concussion grenade launcher
Lightsabers
Wrist Gauntlets

Flame projector
Fibrecord whip
Wrist laser
Concussion rockets
Stun rockets
Mitronomon Z-6 Jetpack
Edit
Hands-free
Up to one minute of flight
Max speed: 90 mph / 145 kph
Magnetic grappling hook
Anti-vehicle homing rocket
He starred in the first episode of the internet series, Death Battle, Boba Fett VS Samus Aran, as well as the remastered version.
Ad blocker interference detected!
Wikia is a free-to-use site that makes money from advertising. We have a modified experience for viewers using ad blockers

Wikia is not accessible if you've made further modifications. Remove the custom ad blocker rule(s) and the page will load as expected.