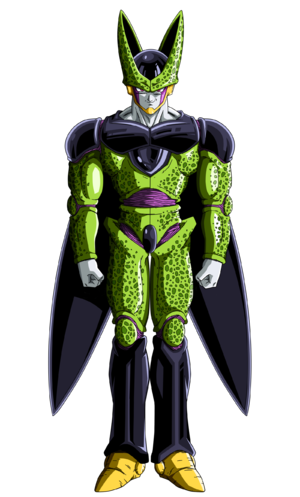 | | | |
| --- | --- | --- |
| " | Now I understand what Dr. Gero meant by 'Ultimate perfection'. Like Piccolo I can fully regenerate as long as my core remains! Like the Saiyans my power increases greatly after I heal from an attack! And like Frieza I can survive anywhere, even in the vacuum of space! I thought Gero only meant for me to destroy Earth. But I now know my true destiny. Using my new Instant Transmission technique I can travel from world to world laying waste as I go. I am the universe's end! | " |
| | ~ Cell | |
Cell is a character from the manga series, Dragon Ball. He was the true main antagonist of the Android Saga.
Fanon ideas so far
Edit
Possible Opponents
Edit
Amazo (DC Comics)
Bojack (Dragon Ball)
Mereum (Hunter X Hunter)
Kars (JoJo's Bizarre Adventure)
Zygarde (Pokémon)
SCP-682 (SCP Foundation)
Metal Sonic (Sonic the Hedgehog)
Information
Edit
Ad blocker interference detected!
Wikia is a free-to-use site that makes money from advertising. We have a modified experience for viewers using ad blockers

Wikia is not accessible if you've made further modifications. Remove the custom ad blocker rule(s) and the page will load as expected.