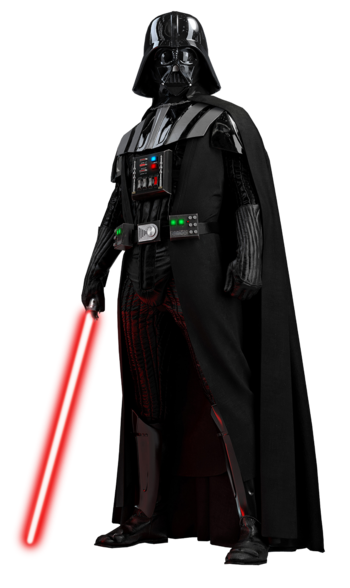 | | | |
| --- | --- | --- |
| " | The ability to destroy a planet is insignificant next to the power of the force. | " |
| | ~ Darth Vader | |
Darth Vader is a character from the Star Wars series.
Wikia Match-Ups
Edit
Possible Opponents
Edit
Terminator (...)
Zurg (Toy Story)
Bowser (Super Mario Bros.)
Albert Wesker (Resident Evil)
Sauron (Lord of the Rings)
Vilgax (Ben 10)
Sonic the Hedgehog
Master Chief (Halo)
Superman (Injustice)
Guts (Berserk)
Adam Taurus (RWBY)
Reaper (Overwatch)
Marvel Comics

Silver Samurai
Ego
Loki Laufeyson
War Machine

DC Comics

Black Manta
Sinestro
Bane

Megatron (Transformers)
Jetstream Sam (Metal Gear)
Esdeath (Akame ga Kill!)
M. Bison (Street Fighter)
Emperor Harlis (Arlian Angel)
RoboCop (...)
God of War
The Meta (Red vs. Blue)
Naruto

Sasuke Uchiha
Gaara (As Anakin Skywalker)
Madara Uchiha

Maleficent (Sleeping Beauty)
The Legend of Zelda
Zephiel (Fire Emblem)
Lich King (Warcraft)
Asgore Dreemurr (Undertale)
Mecha Fiora (Xenoblade Chronicles)
Kirby
Information
Edit
Background
Edit
Height: 6'6
Weight: 264lbs
Age: 45 at death
Real Name: Anakin Skywalker
Home world: Tatooine
Trained 13 apprentices
Husband of Padme Amidala, father of Luke Skywalker and Leia Organa Solo, grandfather of Kylo Ren
Occupation: Dark Lord of the Sith, Pod Racer, Slave, and fallen Jedi Knight
Powers & Abilities
Edit
The Force

Telekinesis

Force Push
Force Pull
Force Choke
Force Grip
Force Crush 
Force Throw
Force Barrier
Saber Throw

Telepathy

Mind Probe
Mind Trick
Force Vision
Force Sense
Force Jump
Force Dash
Taming Beasts
Immense Strength
Lightsaber Skills

Form I
Form II
Form III
Form IV
Form V
Form VI
Form VII
Jar'Kai
Master Pilot
Expert Hand-To-Hand Combatant
Expert Marksman
Master Engineer
Genius-Level Intellect/Master Tactician/Leader
Multilingual
Lightsaber
Edit
Vader's main weapon
A beam swords that is capable of cutting through even the strongest metals like butter.
Vader's is a dual-phase lightsaber, allowing him to instantly change its length in battle with the flick of a switch
The length the switch can change between is adjustable, and Vader has his set two blade lengths at ≈1 meter and ≈1.5 meters respectively
Feats & Stats
Edit
As Anakin, disarmed Asajj Ventruss with brute force alone
As Anakin, strikes were said to be comparable to a meteor's impact
As Anakin, overpowered Count Dooku's defense, who was stated to be one of the most skilled duelists in the galaxy and uses a style specifically for lightsaber combat
Is capable of bringing down buildings using the Force
Crushed a lightsaber to dust
Threw a med droid with an injured arm
A kick sent an assassin fifteen feet away
Snapped a man's neck with only one hand
Is able to list several hundred pounds with one hand and without aid from the Force
Shattered a crystalline pillar while injured
Crushed a Stormtrooper's head with his bare hands
With the Force, can topple entire armies, collapse buildings, and push back starships
Has physically overpowered countless Jedi, including notably strong ones like his own son, in lightsaber combat
Officially described as having power rivaling 80% of Darth Sidious'
As Anakin, can create afterglows with his lightsaber and can create afterimages
As Anakin, dodge lightning strikes and outpaced missiles
As Anakin, can dodge tank missiles and blitz many B2 battle droids
Casually reacted to blaster shots from Han Solo
Jumped from across a room to deflect a blast, which was around less then a second
Avoided a blast so fast, that the guy shooting it ended up killing his partner instead
Can move so fast that he appears like he's teleporting... to Jedi
As Anakin, tanked a missile to the face.
As Anakin, can take beatings from the likes of Durge
Was still alive after a beatdown from Luke Skywalker
Took a brutal beating from Galen Marek that deactivated his suit and survived
Killed a clone of Darth Maul by stabbing himself through the chest
Torched by two flamethrowers and was perfectly fine
Tanked a point-blank grenade explosion
Can withstand lightsaber strikes unharmed
Withstood concentrated lightning strikes from the likes of the Starkiller clone and his master
As Anakin, matched Obi-Wan in combat before falling into lava.
As Anakin, slaughtered an entire Tuskan Village only because his mother died
As Anakin, killed Durge who trained under several bounty hunters across the galaxy
Can easily hold his own against numerous Jedi at once
Killed 8 Jedi at a Kessel conclave
One of the most renowned lightsaber duelists in all of Star Wars
Outpiloted droids with reflexes that rivaled the speed of light
Built a sentient droid at the age of 9
Lead a Galactic army rather well for two decades
Faults & Weaknesses
Edit
Dependence on Breathing Apparatus
Can underestimate his opponents
Weakness to lightning or strong electrical discharges, as it could short circuit his armor

He was eventually killed by Sidious' Force Lightning

Unable to use Force Lightning since his hands are metallic
Can be overpowered by Jar'Kai users
Heavy armor

Although he can still use Force Speed, he is relatively slower and less agile than the average Jedi

Continued serving his master despite knowing that he manipulated him his entire life and was continuously looking to replace Vader
His Injuries stopped him from reaching his full potential with the Force, though he was still very much a powerful Force user

Was in constant pain; although this did benefit his connection with the Dark Side.
Sidious intentionally made Vader's armor faulty so that Vader would never surpass him

Defeated by Luke Skywalker, a self-proclaimed Jedi Knight, his secret apprentice; Galen Marek and his clone, Starkiller
Somehow did not realize he had children for 22 years after they were born
Contrary to popular belief, lightsabers can't cut through everything
He starred in the 49th episode of the internet series, Death Battle, Darth Vader VS Doctor Doom.
Darth Vader made a cameo appearance in Fatal Fiction Episode 8: Rocky Balboa vs Little Mac due to the fact he's a fan of Rocky Balboa.