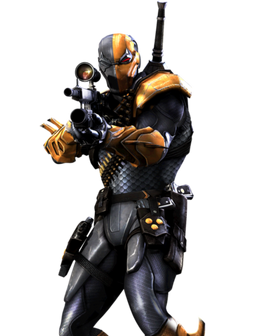 Deathstroke is a character from DC Comics.
Fanon Wiki ideas so far
Edit
Fatal Fiction Info
Edit
Background
Edit
Real Name: Slade Joseph Wilson
Height: 6'4"/1.93 m
Weight: 225 lbs/102 kg
Alternate Alias: The Terminator
Known for terrorizing a certain group of teenage superheroes
Will shoot children in the knee point blank using a shotgun
Has yet to be accurately portrayed outside of his comics
Abilities
Edit
Enhanced mind

Blazingly fast reaction times
Nine times the normal processing speed

Enhanced body

Superior strength, speed, and durability

Adaptive healing factor
Mastery in boxing, jiujitsu, karate, ninjutsu, and sword fighting
Extensive knowledge of battle tactics
Weapons & Armor
Edit
Dual machine guns
Sniper rifle
Promethium sword
Energy lance

Fires a concussive laser blast

Super Bomb

A very expensive flash grenade designed to keep Superman at bay

Armor

Partially composed of Nth metal
Slightly enhances strength and speed
Strength & Feats
Edit
Downed 38 men in under 2 minutes
Had his brains shot out, came back to life just hours later
Best most of the Justice League
Decisively defeated Batman in a hand-to-hand fight
Agile enough to elude Superman
Can see at a subatomic level
Able to kick down a reinforced steel door with ease
He starred in the 39th episode of the internet series, Death Battle, Deadpool VS Deathstroke and the internet series, One Minute Melee, of the same.
Ad blocker interference detected!
Wikia is a free-to-use site that makes money from advertising. We have a modified experience for viewers using ad blockers

Wikia is not accessible if you've made further modifications. Remove the custom ad blocker rule(s) and the page will load as expected.