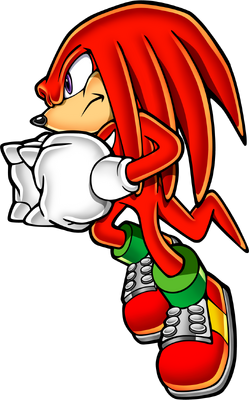 Knuckles the Echidna is a character from the Sonic series.
Fanon Wiki ideas so far
Edit
Possible Opponents
Edit
Information
Edit
Background
Edit
Knuckles the Echidna
Age: 16-18
Height: 3'07 (110 cm)
Weight: 88 lbs (40 kg)
Doesn't Chuckle
Last of the Knuckles Clan
Guardian of the Master Emerald
Natural Abilities
Edit
Supermortal Strength

To compare How many times faster the the speed of sound Sonic is is how many Metric tons Knuckles can lift times 100

Punches can break boulders like limb sticks
Superhuman Speeds

Can go to at least Hypersonic speeds

Gliding
Pyrokinesis

Can cause his fist to catch on fire and his punches can cause explosions

Geokinises

Heals himself using the Earth's energy
Can call for meteors from space

Electrokinesis
Thunder Arrow
Drill Claw
Spin Attack
Spin Dash
Homing Attack
Maximum Heat 
Quake Punch
Mole Mine
Piko Hammer
Air Necklace
Shovel Claws
Sunglasses
Chao Attack
Chaos Abilities and Transformations
Edit
Each increases the potency of his self healing
Can nullify invulerability.
Hyper Mode (not Hyper Form) increse Knuckles's Speed, Strength and Endurance, but not to as much as his Super Form
Super Knuckles increases his stats by 1000 times and gives him nigh invulerability
Feats & Stats
Edit
Outspeeds Machine gun bullets
Has rivaled and rarely beaten Sonic and Shadow
Punches cause Earthquakes
Cunning enough to outsmart Sonic & Tails in their early encounters
Capable of driving some of Robotnick's large devices
Defeated Super Mecha Sonic
Faults & Weaknesses
Edit
Is almost always on the stupid end of the stick
Attacks can be easily read
Ego as big as Angel Island
Tricked by Robotnick five times
Ad blocker interference detected!
Wikia is a free-to-use site that makes money from advertising. We have a modified experience for viewers using ad blockers

Wikia is not accessible if you've made further modifications. Remove the custom ad blocker rule(s) and the page will load as expected.