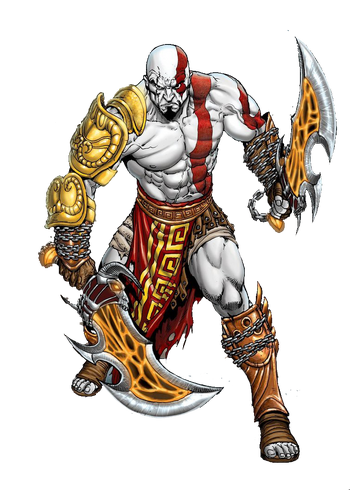 Kratos is the main protagonist of the God of War series. He previously starred in the third episode of Fatal Fiction:
Scorpion VS Kratos
.
Fanon Wiki Ideas So Far
Edit
Information
Edit
Background
Edit
Age undetermined
190 cm
Former captain
The Ghost Of Sparta
Anti-hero
Seeks revenge on the gods for the death of his wife and child
Self-centered demigod
Superhuman attributes
Crossed over with various different universes
The Blades of Exile block attacks and generate fire
The Boots of Hermes Of Hermes grant the user great speed (also generates fire)
The Wings Of Icarus allow him to use flight
The Sword of Valor was once his main weapon
The Blade Of Olympus contains Kratos' godly power (And Generates waves of energy?)
Poseiden's Rage allows him to use lightning
Kratos can react to nearly any attack
Weaknesses
Edit
He sure isn't the captain that he used to be
Is it just us or does he get tricked by the gods a lot?
Ad blocker interference detected!
Wikia is a free-to-use site that makes money from advertising. We have a modified experience for viewers using ad blockers

Wikia is not accessible if you've made further modifications. Remove the custom ad blocker rule(s) and the page will load as expected.