Lex Luthor is a character from DC Comics.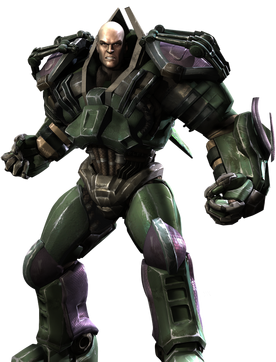 Fanon Wiki ideas so far
Edit
Information
Edit
Background
Edit
Full name: Alexander Joseph Luthor
Height: 6'2"/188 cm
Weight: 210 lbs/95 kg
IQ: Immeasurable
Reason for baldness: Classified
Former president of the United States
Once acted as his own son via brain transplant to a new body
Culmination of technology from Lex, Darkseid, and Brainiac
Flight
Force fields can negate heat vision
Flamethrowers
Energy blade
Energy blasts

Includes four different Kryptonite energy generators in each of the suit's fingers
Mental resistance to mind control surpasses even Deathstroke
Frequently and fearlessly goes up against Kryptonians
Defeated Nightwing and Batman in hand-to-hand combat
Impaled Supergirl
Solved the anti-life equation

Should only be possible for a 12th-level intellect

Survived half his face ripped off, all four limbs blasted away, and impaled in five different places
Weaknesses
Edit
Arrogance
Obsession with Superman
Suit has yet to equal or defeat Superman
Kryptonite weapons not as effective against non-Kryptonians
Doppelgänger likely to attack Lex Luthor as well
He starred in the 46th episode of the internet series, Death Battle, Iron Man vs Lex Luthor.
Ad blocker interference detected!
Wikia is a free-to-use site that makes money from advertising. We have a modified experience for viewers using ad blockers

Wikia is not accessible if you've made further modifications. Remove the custom ad blocker rule(s) and the page will load as expected.