Michael Myers is the main antagonist of the Halloween series.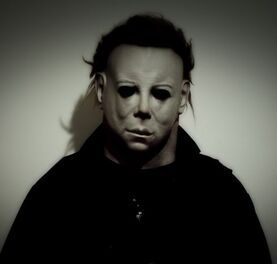 Fanon Wiki Ideas So Far
Edit
Fatal Fiction Info
Edit
Background
Edit
Height: 6'2
Weight: 215lbs
Age: 44 by Halloween: Resurrection
Nicknames: The Shape, Evil on Two Legs, The Devil, Evil, The Boogeyman
Full Name: Michael Audrey Myers
Occupation: Serial Killer
Date of Birth: October 19, 1957
Kitchen Knife
Edit
Length: 8 inches
Width: 1½
Michael's primary weapon
Can be used to stab victims to death
Has even decapitated victims
Abilities
Edit
Intelligence
Superhuman Strength
Superhuman Durability
Regeneration
Murder Skills
Evasion
Stalking
Tracking
Immortality due to inhumanity
Kill Count: 85
Can lift tombstones and adult humans with ease
Has impaled human skulls with just his thumb
Murdered his older sister Judith when he was six
Escaped Smith's Grove Sanitarium
Wiped out Haddonfield's entire police force
Shattered windows just by headbutting them
Picked up a TV effortlessly
Survived being stabbed in the heart by his own knife and being shot there point blank by a shotgun
Was sliced by a chainsaw two times and he still survived
Still stood up after being hit by a truck at 50 mph
Gouging out his eyes will only blind him
Has been horribly electrocuted and burned
Survived being hung
Endured falling off a balcony
Striking him with a axe won't do anything other than piss him off
Got speared in the chest
Was brutally beat with wood plank and a large steel pipe until his head was paste
Not even explosions haven't fazed him
Weaknesses
Edit
Can still be knocked out
Doesn't know Martial Arts
Can be killed by fire or decapitation
If the Mask of the Thorn is taken away, Michael will become mortal and therefore killable
Emotional
Kung-fu blaster rhymes have kicked his ass
Ad blocker interference detected!
Wikia is a free-to-use site that makes money from advertising. We have a modified experience for viewers using ad blockers

Wikia is not accessible if you've made further modifications. Remove the custom ad blocker rule(s) and the page will load as expected.