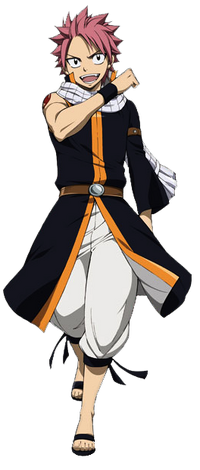 | | | |
| --- | --- | --- |
| " | You don't die for your friends... You live for them! | " |
| | ~ Natsu Dragneel | |
Natsu Dragneel is one of the titular protagonists of the Fairy Tail series. He previously fought against 
Tsunayoshi Sawada
 in the tenth episode of Fatal Fiction:
Tsuna VS Natsu
.
Fanon ideas so far
Edit
Possible Opponents
Edit
Captain Falcon (F-Zero)
Monkey D. Luffy (One Piece)
Haru Glory (Rave Master)
Shrek
Alpha (TOME)
Hiei (Yu Yu Hakusho)
Information
Edit
Background
Edit
Age: Technically over 800, but is physically still a teenager
Has the rank of salamnder
Affiliated with the Fairt Tail Guild
Mage
Raised by the dragon Igneel
Specializes in fire magic
Blood type: O
Guild mark is located on his right shoulder
Counterpart: Natsu Dragion
Natural Abilities
Edit
Lost form of magic
Quick enough to dodge a beam of light
Powerful enough to wipe villages and even islands off the map
Superhuman senses (can tell people apart by sniffing them)
Can endure a lot of punishmenent
Can consume fire to refuel himself
Dragon Slayer Magic
Edit
Lost form of magic
His flames can casually melt steel
Natsu's dragon slaying ally Laxus transferred some of hiss lightning magic to Natsu
Fire Dragon teqniques such as Fire Dragon's Roar, Fire Dragon's Claw, & Fire Dragon's Iron Fist
Dragon God's Brilliant Flame and Crimson Lotus Fire Dragon's Fist are insanely powerful
Has flight at his disposal
Finishes things off with The Crimson Lotus Exploding Flame Blade
Has defeated multiple:

Monsters
Dragons
Dragon Slayers
Wizards
Saints
And plenty more
Many of his moves and forms leave him exhausted3
Brawn over brains
Somewhat lacks people skills due to his upbringing
Constantly gets his butt kicked by Erza
To enter Dragon Force he must aquire a large amount of elemental power
Motion sickness, 'nuff said
Short tempered
Cocky and reckless
Can't fight underwater
Pathetic without his magic
Ad blocker interference detected!
Wikia is a free-to-use site that makes money from advertising. We have a modified experience for viewers using ad blockers

Wikia is not accessible if you've made further modifications. Remove the custom ad blocker rule(s) and the page will load as expected.