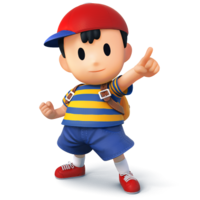 Ness is the main protagonist of Nintendo's Earthbound.
Fanon Wiki ideas so far
Edit
Possible Opponents
Edit
Ginka and Big Bang Pegasus (Beyblade)
Razputin Aquato (Psychonauts)
Silver the Hedgehog (Sonic the Hedgehog)
Fatal Fiction Info
Edit
Background
Edit
PSI Abilities
Edit
Fire
Flash
Hypnosis
Rockin
Thunder
Shield
Teleport
Starstorm
Defeated Giygas
Fought groups of policemen
Fought giant deformed rats
Weaknesses
Edit
Naive
Scared by hideous monsters and powerful attacks
Ness made a cameo appearance in Fatal Fiction Episode 8: Rocky Balboa vs Little Mac due to the fact that he's a fan of Little Mac.
Ad blocker interference detected!
Wikia is a free-to-use site that makes money from advertising. We have a modified experience for viewers using ad blockers

Wikia is not accessible if you've made further modifications. Remove the custom ad blocker rule(s) and the page will load as expected.