Nokturnus is the god of destruction and silencing from Dragon Quest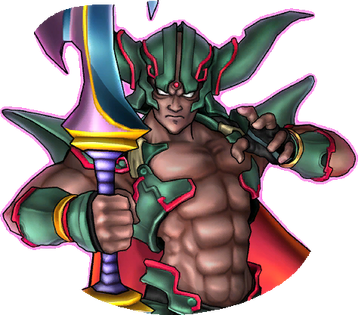 Fanon Wiki ideas so far
Edit
Fatal Fiction Info

Edit
Background
Edit
Name: Nokturnus, Dark Dream, Dark Drium
Height: Roughly 10 feet tall
Origin: Another dimension
Likes: Suffering of people in their dreams, destruction, end of the universe
Dislikes: Being controlled or having someone in charge of him
Weapons and Abilities
Edit
His duel bladed spear which he can split into two duelswords 
Able to smite people while he is in another dimension
Able to teleport to people's dimensions that are nearly innacessable 
Spells

Pearly Gates: Opens the gates of heaven and shines a heavenly cross of holy energy at the opponent
Disruptive Wave: Negates all transformations, powerups, and summons
Big Bang: Starts a collosal explosions which cause revurberations of more explosions
Oomph: Double his attack potency
Buff: Doubles his durability
Kafrizzle: Ingnites a massive pillar of fire
Lullab-Eye: Causes an opponent to fall asleep with the glaring of his eye
Hellfire: Breathes out hellish flames, it is even hotter than his breath attack called White Fire. And White fire is 9008.33 degrees fahrenheit
C-C-Cold Breath: Breathes out freezing cold breath
Magic Burst: Nokturnus's ultimate spell, he concentrates 100% of all of his magic stamina than unleashes it in a massive explosion. He loses all of his magic stamina doing this.
Weaknesses
Edit
If his opponent is leagues weaker than him, he will toy with him
Somewhat weak to holy magic
Ad blocker interference detected!
Wikia is a free-to-use site that makes money from advertising. We have a modified experience for viewers using ad blockers

Wikia is not accessible if you've made further modifications. Remove the custom ad blocker rule(s) and the page will load as expected.