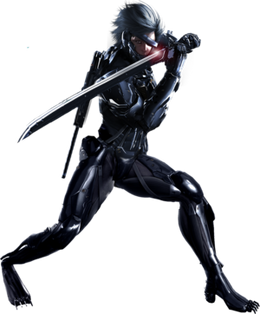 Raiden is a character from the Metal Gear series. He previously starred in Raiden VS Strider Hiryu.
Fanon Wiki ideas so far
Edit
Possible Oponents
Edit
Information
Edit
Background
Edit
Real Name: Jack
Age: 30's
Child soldier during Liberian Civil War
Member of Task Force XXI, FOXHOUND, and Maverick
Most of body replaced with cybernetics
High-Frequency Blade
Edit
Mk. 23 Pistol
Throw Knife
LAG-2 Rocket Launcher
Homing Missile Launcher
Grenades
Nanorepair Paste
Bloodlust
Dystopia

Twin magnetic sais
Can pull himself towards enemies

L'Etranger
Cyborg Body
Edit
Defeated Solidus Snake, Vamp, Blade Wolf, Sundowner, Monsoon, Mistral, Sam, and Armstrong
Held off Outer Haven with one arm
Fended off FROGS without any arms
Bests cyborgs, GECKO's, and Metal Gear's
Defeated by Sam Rodrigues in first encounter
High-frequency sword broken by Armstrong
EMP and Jam grenades not useful against nanomachine-free targets
Reliant on enemy power cores to heal
Often has no regard for his own safety or well-being
He will star in the upcoming 52nd episode of the internet series, Death Battle, Wolverine VS Raiden.