Raiden (Mortal Kombat) is a character from the Mortal Kombat series.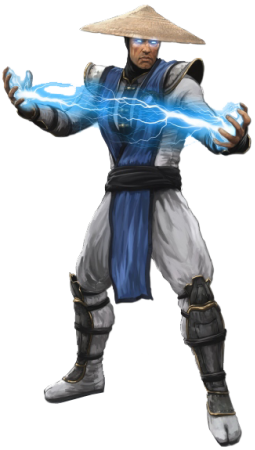 Fanon Wiki ideas so far
Edit
Possible Opponents
Edit
Information
Edit
Background
Edit
Full Name: Lord Raiden
Height: 7'
Weight: 350 Ibs
Age: Eternal
Protector of Earthrealm
Martial arts mastery

Jujitsu, Nan Chuan, Judo, & Taekwondo
Special Moves
Edit
Lightning Shots
Vicinity Blast
Shocking Touch
Electric Fly
Electric Slide
Teleport
Fatalities
Godly Powers
Edit
Ethereal energy composition
Weather manipulation
Electricity manipulation
Flight
Healing powers
Immortality
Eventually reincarnated after death
Most powerful Mortal Kombatant
Held off limitless-power Kano
Has mastered 750 varieties of Jujitsu
Was the last man standing against the Deadly Alliance
Defeated the Houan necromancers
Can channel electricity through wood
He starred in the 21st episode of the internet series, Death Battle, Thor VS Raiden.
Ad blocker interference detected!
Wikia is a free-to-use site that makes money from advertising. We have a modified experience for viewers using ad blockers

Wikia is not accessible if you've made further modifications. Remove the custom ad blocker rule(s) and the page will load as expected.