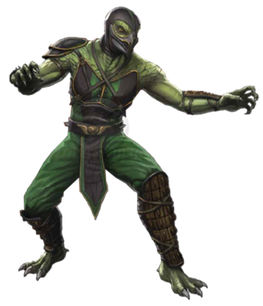 Reptile is a character from the Mortal Kombat series.
Wiki ideas so far
Edit
Possible Opponents
Edit
Diego Brando (JoJo's Bizarre Adventure)
Riptor (Killer Instinct)
Aeon Calcos (Soul Calibur)
Alex (Tekken)
Information
Edit
Background
Edit
Alternate Identity: Syzoth
Race: Raptors
Protector of the wizard Shang Tsung
A reliable servant to Shao Khan in hunting down Kitana
Trained to make use of his mastery of stealth to spy on suspected traitors and slay known enemies of Shao Khan's empire (In the Alternative Storyline)
Can spit acid
Can camouflage
Kunai
Battle axe
Kirehashi
Martial Art Styles
Edit
Moves and Techniques
Edit
Power Slide
Running Serpent
Reptilian Dash
Elbow
Smash
Force Ball
Super Krawl
Dash Punch
Rolling Spikes
Klaw Pounce
Klaw Swipe
Fatalities
Edit
Eating his opponent's head off with his tongue
Can turn invisible to quickly slice his opponent in half
Using his claws in various ways
Can use acid to do such things as opening his opponent's mouth and spitting acid down their mouth and throat
Feats & Stats
Edit
Defeated Cyrax and Kabal
Can kill seven people at once
Faults & Weaknesses
Edit
Lost to Smoke, Johnny Cage and Kurtis Stryker
So far, Reptile has the longest Fatal Fiction Info of any What-If? Combatant.