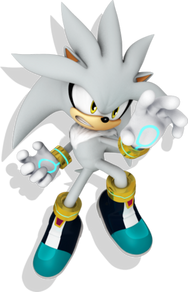 Silver the Hedgehog is a character from the Sonic series.
Fanon Wiki Ideas So Far
Edit
Possible Opponents
Edit
Tetsuo Shima (Akira)
Crono (Chrono)
Booster Gold (DC Comics)
Trunks (Dragon Ball)
Magneto (Marvel)
Ness (Mother/Earthbound)
Mewtwo (Pokemon)
Fatal Fiction Info
Edit
Background
Edit
Height: 3'3"
Weight: 77 lbs
Birth date: 3423 P.X.E
Appeared in the most hated Sonic games ever
Has an appropriate name
Age: 14
Psychokinesis
Flight
Time Travel
Can create his own manifestation of psychic energy to launch at opponents
Can use psychokinesis to defend himself
Can use psychokinesis to compress objects to take on other forms, such as a giant fist
Super Silver
Edit
1000% power increase
Automatic flight
Invincibilty
Stronger Psychokenisis
Has a time limit
Traveled 200 years back from the future
Defeated Solaris, w/ help from Sonic and Shadow
Can fly at over Mach 2 speeds
Fought both Sonic and Shadow to standstills
Held his own against Enerjak
Weaknesses
Edit
Naive
Inexperienced
Has a certain aura of arrogance
Insecure when left alone
Ad blocker interference detected!
Wikia is a free-to-use site that makes money from advertising. We have a modified experience for viewers using ad blockers

Wikia is not accessible if you've made further modifications. Remove the custom ad blocker rule(s) and the page will load as expected.