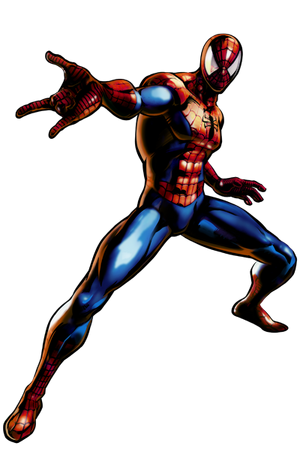 Spider-Man is a character from Marvel Comics.
Fanon Wiki Ideas So Far
Edit
Possible Opponents
Edit
DC Comics
Jolyne Cujoh (JoJo's Bizarre Adventure)
Maka Albarn (Soul Eater)
Strider Hiryu (Strider)
Mr Incredible (The Incredibles)
Fatal Fiction Info
Edit
Background
Edit
Age: Currently over 30 years
Height: 5'10
Weight: 167lbs
Occupations: Vigilante, adventurer, inventor, President and CEO of Parker Industries, bodyguard, mechanic, mascot, and President of the Uncle Ben Foundation
Real Name: Dr. Peter Benjamin Parker
Orphaned
I.Q.: 250
Has the most girlfriends of any superhero ever
Became blood brothers with Wolverine during a time travel adventure
Powers and Abilities
Edit
Wall-Crawling
Superhuman Strength
Superhuman Speed
Superhuman Durability
Superhuman Stamina
Superhuman Agility
Regenerative Healing Factor
Contaminant Immunity
Superhuman Equilibrium
Superhuman Reflexes
Spider-Sense

Manifests in a tingling feeling at the base of Peter's skull, alerting him to personal danger in proportion to the severity of that danger

For instance, a little tingling such as a happenstance passing by of an enemy would prompt Peter to be alert, while a strong tingling, sometimes to the point of being painful, is interpreted as a need to take immediate evasive action on a deadly threat

A psychological awareness of his surroundings, similar to Daredevil's radar-sense
An ability to detect certain radio frequencies

Genius Level Intellect
Master Hand-to-Hand Combatant
Science Major
Skilled Photographer
Master Acrobat
Expert Inventor/Engineer
Indomitable Will
Web-Shooters
Edit
His most distinguishing traits after his costume
Have been used by Deadpool
Twin Wrist-Mounted
Carousel Loaded

Can be reloaded quickly; the magazines located in Peter's belt or pockets

Webbing dissolves in 1 hour
Web fluid cartridges pressurized at 300 psi
Webbing is strong enough to restrain the Hulk and Rhino
Frequently aims for the eyes and mouth to disorient foes
Can create a bulletproof shield
Webbing on his armpits allow Peter some gliding abilities
Can fire as large web balls: acting like non-lethal bullets
Can create parachutes
Web swinging at subsonic speeds.

Several Web swinging techniques; including sling-shotting himself and loop-de-loops

'576 possible web-shooter combinations'
Feats & Stats
Edit
Defeated the Hulk, Rhino and Juggernaut
Can lift up to 11 tons
Fell from average web slinging height without sustaining significant injury
Knocked out a Tyrannosaurus Rex (Tyrant Lizard King my ass)
Bent the steel of a screwdriver
Lifted and threw a tank and a semi-truck
Once held up the entire Daily Bugle skyscraper
Has defeated Marvel's most elite martial artists, which include Captain America, the Punisher, Daredevil, Kraven the Hunter and Kingpin
Stopped a speeding train
Despite being outnumbered and overpowered by the Sinister Six and Sinister Seven, he still managed to defeat them
Survived attacks from the likes of Venom, Carnage and the Hulk
Was still alive after being caught in missile and grenade explosions
Faults & Weaknesses
Edit
Doesn't usually take his fights seriously unless he has a good reason to
Spider-Sense Disruption
Ethyl Chloride
Bad Luck
Has limits when it comes to his durability
Ad blocker interference detected!
Wikia is a free-to-use site that makes money from advertising. We have a modified experience for viewers using ad blockers

Wikia is not accessible if you've made further modifications. Remove the custom ad blocker rule(s) and the page will load as expected.