Superman is a character from DC Comics.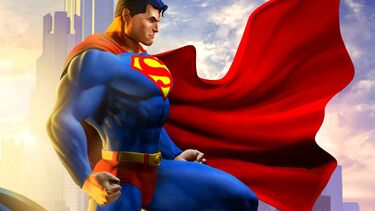 Fanon Wiki Ideas So Far
Edit
Fatal Fiction Info
Edit
Background
Edit
Alternate Identity: Clark Joseph Kent
Occupation: Pulitizer Prize winning Investigative Reporter
Power Source
Edit
Constant Power Absorption
Yellow Sunlight increases power (2700x-5500x)
Red Sunlight has no effect (2700x)
Blue Sunlight doubles increase (5500x; adds new abilities)
Super Sense
Edit
X-Ray Vision (with the exception of lead)
Electro Magnetic Spectrum Vision
Theta Vision (can see a person's aura)
Heat Vision (Maximum Temperature: Unknown; drains solar power quickly)
Infinite Mass Punch
Edit
Acceleration to near light speed creates relativistic mass
Impact equivalent to 10 octillion megatons
Speed force regulates durabilty if necessary, ensuring survival
Genius Intellect
Edit
Perfect Photographic Memory
Taught all remaining Kryptonian knowledge by Jor-El
Martial Arts
Edit
Pressure Points with Batman
Hand to Hand with Wonder Woman
Psychic Barrier with J'onn J'onzz
With Mongol II (worked to uncover full potential)
Torquasm-Rao & Torquasm-Vo (enhances and protects body and mind)
Weaknesses
Edit
Reliant on constant solar radiation
Kryptonite (severely weakens muscles, eliminates stored solar power)
Magic (includes enhanced weapons)
Spends more time protecting others than improving skills
Superman made a cameo appearance in Fatal Fiction Episode 8: Rocky Balboa VS Little Mac due to the fact he's a fan of Rocky Balboa.
Ad blocker interference detected!
Wikia is a free-to-use site that makes money from advertising. We have a modified experience for viewers using ad blockers

Wikia is not accessible if you've made further modifications. Remove the custom ad blocker rule(s) and the page will load as expected.