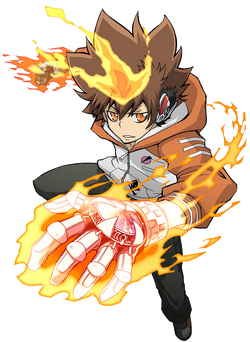 Tsunayoshi Sawada is one of the titular protagonists of the Katekyō Hitman Reborn series. He previously fought against
Natsu Dragneel
in the tenth episode of Fatal Fiction:
Tsuna VS Natsu
.
Fanon Wikia ideas so far
Edit
Fatal Fiction Info
Edit
Background
Edit
Name: Tsunayoshi Sawada
Has a pet named... Natsu
13-14 years old
Started off as 'No Good Tsuna'
Became the 10th Vongola Boss
Partners with the hitman named 'Reborn'
Japanese junior high student
Known for his flame manipulation
Teased about his height
Pacifist (except when it comes to Xanxus or Byakuran)
Natural Abilities
Edit
Can enter an amped up state vis the dying will bullet
Can consume dying will pills for a similar effect
Zero point breakthrough allows him to manipulate ice
Can manipulate the gravity of a star
X-Burner shoots out of two hands and is equivalent to 250000 Flame Volts (Far higher than 8385ºF)
Would later get upgraded to the XX-Burner

Imagine if there was a XXX-Burner
Powerful enough to island bust
Faster than the speed of light
Mantello di Vongola (a cloak) nullifies attacks
Mitena di Vongola Primo (a gauntlet) grants use of Burning Axle
X-Glove grant flight, increased striing strength & ignite dying will flames without
power up items
Prime Example of Zero to hero
Too forgiving at times
Less experienced than most Shonen protagonists
Not good with the ladies
Shy
Some attacks/forms require items to use
Ad blocker interference detected!
Wikia is a free-to-use site that makes money from advertising. We have a modified experience for viewers using ad blockers

Wikia is not accessible if you've made further modifications. Remove the custom ad blocker rule(s) and the page will load as expected.