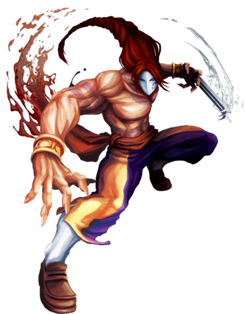 Vega is an Antagonist in the Street Fighter series. He previously fought against Baraka in the second episode of Fatal Fiction.
Fanon Wikia ideas so far
Edit
Possible Opponents
Edit
Voldo (Soul Calibur)
Kuro (One Piece)
Fatal Fiction Info
Edit
Background
Edit
Age Undetermined (Birthday: January 27)
186 cm
Born in Spain
Loyal to Shadaloo
Fighting Style is mainly a combination of ninjutsu and bullfighting
Nicknamed the Spanish Ninja
A sadistic narcissist who is extra vicious against ugly people
Absolutely hates ugly people and cherishes beauty above all else
Skilled at climbing walls
Moves at an Amazing Speed
Moves and Weapons
Edit
Wears a gauntlet with wolverinesque claws
Wears a mask to protect his beautiful face
Unimpressive Defensive
His vanity can get the better of him
He is such a cheap boss in Street Fighter II
Ad blocker interference detected!
Wikia is a free-to-use site that makes money from advertising. We have a modified experience for viewers using ad blockers

Wikia is not accessible if you've made further modifications. Remove the custom ad blocker rule(s) and the page will load as expected.