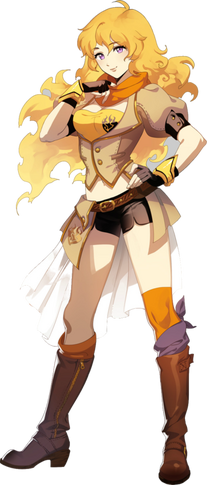 Yang Xiao Long is a character from the web series RWBY.
Fanon Wiki Ideas So Far
Edit
Possible Opponents
Edit
Raoh (Fist of the North Star)
Fatal Fiction Info
Edit
Background
Edit
Height: 5'8" | 172.7 cm
Age: 17
Has a motorcycle called Bumblebee
When angry, eyes turn red & hair produces fire
Infamous for her puns
Hot headed... figuratively & literally
Inspired by Goldilocks
Trained by Qrow Branwen
AKA Shotgun Gauntlets
Fires Kinetic pulses
Holds 12 shots each
Can use momentum of pulses to boost speed and jumps

Amunition

Orange Shells: Long-Range shells
Red Shells: Explosive rounds
Superhuman Strength
Superhuman Durability
Can block deadly attacks
Heals minor wounds
Semblance

Draws Strength from damage taken
Power stems from her hair
No defined limit
Must remain conscious to absorb power
Not limited to physical attacks
Beat Junior's gang singlehandedly
Blocked attacks from Paladin-290
Obliterated Paladin after her Semblance absorbed two hits
Survived being hit 10000 feet in the air (Survived 48.83 tons of force casually)
Fought Beowolves for a whole day
Punched Junior through a pillar without using the Ember Celica
Ad blocker interference detected!
Wikia is a free-to-use site that makes money from advertising. We have a modified experience for viewers using ad blockers

Wikia is not accessible if you've made further modifications. Remove the custom ad blocker rule(s) and the page will load as expected.