Zilla is a Kaiju from the Godzilla franchise.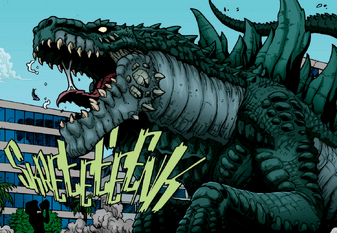 Fanon Wiki ideas so far
Edit
Fatal Fiction Info
Edit
Background
Edit
Height: 90 meters
Weight: 20,000 tons
Accidentally mutated by nukes
Species: Marine Iguana

Is an ancient creature instead of an iguana in Godzilla: Rulers of Earth

Nicknames: G.I.N.O (Godzilla In Name Only), Tuna-Head
Japanese Name: Jira
Claws
Teeth
Burrowing ability
Extraordinary jumper
Adept swimmer
Agility
Intelligence
Scutes

Zilla used them to slice a Trilopod's neck by running at it and bending downward

Acidic flame breath

Never seen in use, only hinted at when Zilla emerges from behind an explosion similar to the one caused by Godzilla's power breath in the 1998 film

Camouflage
Put up a fight against Godzilla in Rulers of Earth
Made Godzilla bleed
Injured and killed several Trilopods
Caused grave damage to Sydney
Survived being knocked aside by the massive legs of Magita
Weaknesses
Edit
Killed by Godzilla in 16 seconds flat in Godzilla: Final Wars
Ad blocker interference detected!
Wikia is a free-to-use site that makes money from advertising. We have a modified experience for viewers using ad blockers

Wikia is not accessible if you've made further modifications. Remove the custom ad blocker rule(s) and the page will load as expected.